MSF NEFERTITI - 2001 Pyramid Society Egyptian Bred Arabian mare
MSF SHEIKH HABIB x MSF RAWA
She is a dark bay, with rabicano coat. She is a Pyramid Society Egyptian Bred mare, eligible for any Pyramid Society Egyptian Event class. This mare is progressing nicely in training for Competitive Trail. She had her first foal in 2005, a solid black colt, listed below, MSF HAMDANI NAKHDA. We left Nefertiti open for 2006 so we could progress further with her training, before breeding her for another foal in 2007. She is available for sale with a package, as this is a very endangered "Strain" within Al Khamsa Arabians. Please read our story about this family on the Bedouin Strain page, on our web site. You may choose which stallion to breed to.

MSF SHEIKH HABIB x MSF RAWA

Al Khamsa, Pyramid Society Egyptian Arabians
CRF Nadira, CRF Jehaana, Ebonys Doyle LHF -photo credit Nina Hill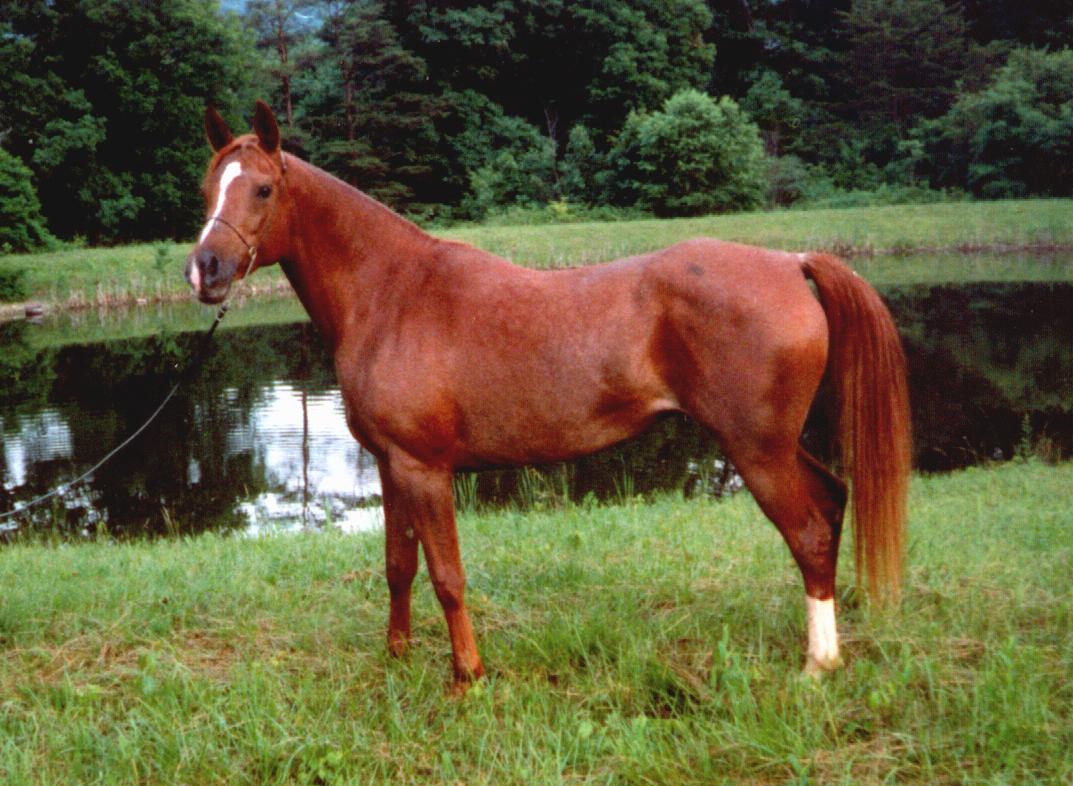 Ebonys Doyle LHF AHR 382058- RARE 50% Doyle/ 50% Pritzlaff
Ebony Nefous RSI x Larkin DE
Pyramid Society Egyptian Bred mare of 100% Egyptian source blood. Doyle Egyptian breeding with Rabanna of the Saqlawiyah-Jidraniyah (Sudan)strain. Ebony had her FIRST Heirloom, Sheykh Obeyd filly replacement, MSF Ebonys Derby by RG HILACIOUS AHR 225572 (Dahman-Shahwan Bedouin strain) in 2003. Ebonys Doyle LHF is a substantial mare standing a true 15.2hh, barefoot. She is one of the most elegant, proportionate and substantial Sheykh Obeyd Heirloom Arabian mares we have seen. She produced a replacement stallion, MSF EMIIR, by KAHREAM AHR 346222 in 2002 for the 100% Egyptian, Heirloom/ El Deree group. Her 2003 filly, MSF EBONYS DERBY is VERY special in many preservation respects, as RG Hilacious only has ONE male and ONE Female (MSF Ebonys Derby) Heirloom replacement as of 2003. She is Ebonys Doyle's FIRST Heirloom replacement. Her 2005 black filly, MSF EBONYS NARMINA, is BLACK, by the black Straight Babson Egyptian, Heirloom stallion, FAYDIN. Ask for details about Heirloom, Sheykh Obeyd Egyptian Arabians.
MSF Ebonys Narmina-registration pending. Doyle/Pritzlaff/50% Babson breeding
MSF Ebonys Narmina
Black Heirloom filly

~~ NEWS FLASH ~~
Purebred Arabian mares: Hart Asheera AHR 364456 & Alia Gamil Razele AHR 436527 were inspected and approved by the American Trakehner Association (www.americantrakehner.com) for inclusion in the Preliminary Stud Book for producing PUREBRED TRAKEHNER (warmblood)horses. Alia Gamil Razele & Hart Asheera are to be bred to Trakehner stallion, TZIGANE for 2007. As of 2005, Hart Asheera is the only Al Khamsa Arabian mare approved in the American Trakehner Stud book.
Alia Gamil Razele AHR 436527 - Pyramid Society Egyptian Bred Arabian mare - El Hilal, Ruminaja Ali, *Sammara, + Crabbet (CMK)& Polish bloodlines.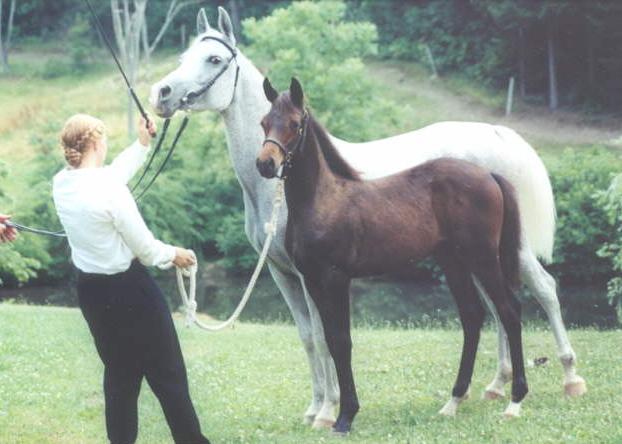 Alia Gamil Razele AHR 3436527 (Royal Ali Hilal x Raquelas Belle) & 2001 MSF Superstishun IAHA # AA9987 by King Shamong (TB)