Mountain Spring Farm

Mary Sears, Waynesboro, PA, age 65, was looking for a companion, and trustworthy trail horse. She found us online, living abut 30 miles away and fell in love with our purebred Arabian mare, MSF Habiba on her first visit, after riding two horses of different breeds and types. Mary is enjoying her immensely, and MSF Habiba accepted Mary on the first ride, with her gentle yet encouraging manner, as Mary is used to 10 mile a day trail rides, and 7 miles a day on foot herself. MSF Habiba will be inspected this summer to be added to the American Trakehner Association Stud book (ATA), a warmblood breed. MSF Habiba will be bred for producing purebred Trakehner horses, who will also be Half Arabian, plus replacement purebred Arabians in the future. Mary will be conditioning MSF Habiba to present her at her best. MSF Habiba's dam, Alia Gamil Razele is already one of our inspected and approved Arabian mares for the ATA, while her sire, MSF Sheikh Habib is a rare tail male line *Soufian (Alaa El Din x Moniet El Nefous) Sheykh Obeyd, Straight Egyptian stallion, who stands at MSF. We strive to join horses and owners as partners for life. We have been thrilled with the partnerships we have made so far this year.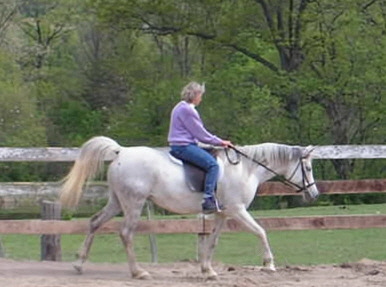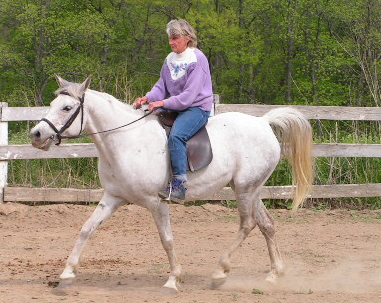 ~ CONGRATULATIONS TO: Pamela Klein, Appomattox, VA on her recent purchase of Rare Al Khamsa Arabian strain mare, IMF BADIA NAFILA. Congratulations to Dorothy Munsee, VA on her purchase of the 2006 black filly, MSF SUNDAY by BW Fadl Tali out of IMF BADIA NAFILA, adding another filly to carry this endangered Hamdani Simriyah strain line forward. Also, congratulations to Michael & Laura Gavigan, VA, on their purchase of one of our TB mares, Desiree, who seems to be a perfect match for Michael, and their recent purchase of the new 2006 bay Arabian filly out of MSF ASWIJA (Salil Ibn Iliad x Rhiannon CHF) to keep company with Desiree.
---
We have several Anglo Arabian, Anglo Arab x Arab Trakhener and Half Arabian foals to offer for anyone interested in showing in Anglo Arabian/ Half Arabian Sport Horse shows or Open Shows in the Breeder's Series USDF/ USEA shows. Nancy Ligon, who purchased 1997 GG, MSF RAIS( Salil Ibn Iliad x Hart Asheera)for her daughter, Nicole, bred her TB mare, ALLIE to KAHREAM last year so she could also participate in the Arabian shows with her daughter. Allie had a stunning and huge black Anglo Arabian filly in May, hoping to show in Sport Horse classes later this year. CONGRATULATIONS!
We are having a Sport Horse Clinic, featured speakers on various Desert Arabian Horse topics with a Pig Roast & PA Dutch Lunch on Saturday October 21, 2006. Please send an email to ** msfarab @ yahoo.com ** for a reservation form and program. There will also be a trail ride at the Gettysburg Battlefield, Saturday or Sunday, as we get closer to deciding which day. Call to sign up and reserve (NOW!) a Motel room for the weekend to join us for activities at Mountain Spring Farm and Gettysburg, PA Trail ride.
What are Heirloom Egyptian Arabians ? www.heirloomegyptianarabians.com **NEW SITE**

Faydin, Black Sheykh Obeyd, Pyramid Society Straight Egyptian, Heirloom Al Khamsa Blue List Arabian Stallion ~ Photo credit Diana Johnson ~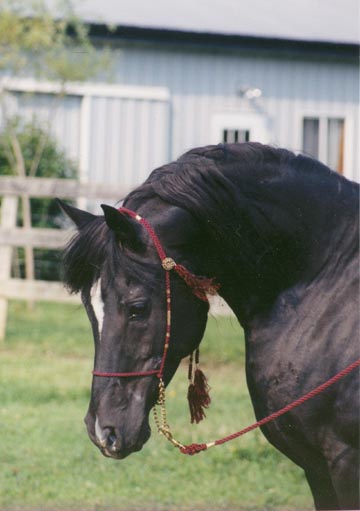 FAYDIN stands at stud through fresh semen (On farm or shipped) or frozen (USA only) semen. We are expecting more wonderful foals, including Pyramid Society Straight Egyptian, Sheykh Obeyd, & Heirloom foals and rare Al Khamsa Pyramid Society Egyptian Sired purebred Arabian foals. A few of his foals from the past few years, including homozygous black Arabians from endangered Arabian bloodlines are offered for sale. The black filly shown below is the FIRST Sheykh Obeyd, Heirloom, Straight Egyptian replacement for BW FADL TALI, foaled in May 2006, and she is offered FOR SALE to the right home looking to begin a very rare Egyptian Arabian breeding program, with BLACK and beautiful MSF FADLIMA. MSF FADLIMA is solid black, adorable and sweet natured, from birth, always wanting to come over and visit her human friends. Make an inquiry soon!
---
We also stand Faydin's son, BW Fadl Tali,out of Bint Fadl Starr (Fadl Starr x Princeton Maaroufa by Serr Maariner). Tali has been tested homozygous black, EEaa, with no agouti allele for bay color. Tali's 2005 purebred Arabian foal crop were all black. They are in the following Arabian groups: Sheykh Obeyd, Heirloom, Pyramid Society Straight Egyptian & black Pyramid Society Egyptian Sired group. Some are offered for sale.
We have recently added a few new broodmares to our Pyramid Society Straight Egyptian, Sheykh Obeyd, Heirloom Egyptian program. EL DAHMA USA (Inshalla Imhotep x Sabbahs Marjah), who had a lovely chestnut 2006 stallion, MSF DAHMAN by FA Jadiya Mujaad (Halim El Mansour x FA Evening Star), making him a Sheykh Obeyd , Straight Egyptian colt, and what an athletic colt he is showing himself to be! Please inquire if you are interested in this BABSON/ HALIMA/ SIRECHO Sheykh Obeyd (Pyramid Society Straight Egyptian, Al Khamsa) breeding stallion, or Sport Horse Show Horse!
QUEEN OF THE NILE (Raadin Inshalla x Akid Bint Anazeh), a BABSON/ HALIMA/ *TUHOTMOS mare, who had a lovely chestnut 2006 stallion, MSF SHAAH OF THE NILE (by Faym CMC ( by Faydin )making him a FAYDIN grandson, Straight Babson Egyptian Sired, Straight Egyptian, Sheykh Obeyd & Heirloom Egyptian colt.
LU AIBA OF THE NILE (Inshalla Imhotep x Queen of the Nile), a BABSON/ HALIMA/ *TUHOTMOS Egyptian group Pyramid Society Straight Egyptian, Sheykh Obeyd & Heirloom Egyptian mare. She is currently doing well in hunter training and our daughter, Megan, hopes to get her in shape for a few shows this season and get her in foal for 2007 for her first Heirloom Egyptian, SE, SO replacement.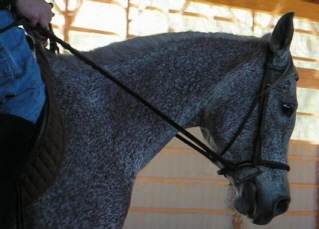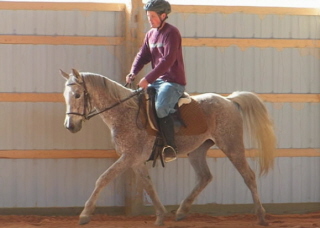 Please visit our stallion page to see Arabian stallion of the Sheykh Obeyd, Pyramid Society Straight Egyptian group, MSF SHEIKH HABIB ( RG Fay Moniet x RG Moniette Salim). We also have the rare privilage of standing the Sheykh Obeyd, Heirloom, & Pyramid Society Straight Egyptian stallion, RG HILACIOUS( El Hilal x Desert Song RSI). As another alternative for a black Arabian stallion, we offer KAHREAM (Moss Hill Karim x Sierra Sady) from the Egyptian Heirloom /El Deree group. Some are offered for On Farm AI breeding, while others have frozen semen (USA) or shipped cooled semen available. We will have foals and youngstock available from all stallions.
---

---
For breeders looking more to the SPORT HORSE arena in Part or Anglo Arabian breeding, we offer the stud service of our Anglo Arabian stallion, MSF ROADWAY (King Shamong TB(22-12-10) x Alia Gamil Razele, Arabian & Trakehner Stud Book). This will be the first season we will be offering a limited book on our Arab Trakehner stallion, ALAK sired by Elbiskus, who was an imported Trakehner from Denmark & USDF 1989 HOY in Grand Prix dressage plus other titles. Alak's dam is Alia Gamil Razele( Royal Ali Hilal x Raquelas Belle) who is one of the few inspected & APPROVED Arabian mares entered in the Trakehner Stud book for improvement of the Trakehner. Both stallions are offered for On Farm AI breeding, while Roadway has frozen semen (USA) or shipped cooled semen available.
---
---
Frozen (USA) & Shipped Cooled Semen
(717)349-7252 or cell 785-375-8184
msfarab@cvn.net
---
---
We welcome you ......to see our horses ... hope you enjoy the ride !

For more information contact us at 717-349-7252 or msfarab@yahoo.com
---
Tom, Lesley & Megan Detweiler
17222 Mill Rd
Spring Run PA, 17262-9708
(717)-349-7252